If you live in a tropical place surrounded by beautiful lowers, lucky you.  You don't have this problem.  If you are like me, living in a place where fresh local flowers are getting scarce lately, you might get depressed….
Let's not! If you look around, you will find abundance of beautiful materials for your fall arrangements.
Fruits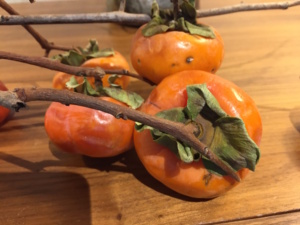 After those pretty flowers are gone from branches, what do you see next?  With successful pollination, now you see fruits on the branch.  Some fruits look delicious and the best way to enjoy them is to eat them.  Some fruits, however, may be too sour or too ripe.  They are not good enough to be consumed.
They are good enough to please your eyes, though.  The rich color and dense volume of any fruit, large and small, gives you totally different impression from any flower.
You don't need many of them.  Even a single fruit on a vase may have a significant presence.
Leaves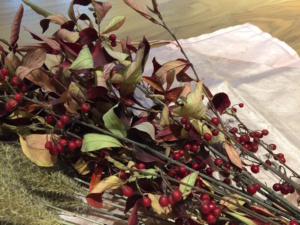 Maple is not the only tree whose leaves turn color.  The foliage of many perennials change color before finally wilting.  Leaves just about to fall (but not yet) give you such a delicate feeling.
Grass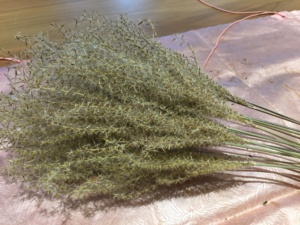 Lacy Pampas grass, sticking out of green leaves, is a good addition. You can use it as dry material, which means you don't have to remain the tip under water.  The lacey appearance of the grass softens the atmosphere and appearance of other materials.
You might have heard a Japanese term "wabi-sabi." Although there is no good English term that precisely express the meaning of "wabi-sabi," somewhat rustic appearance of fruits, leaves with turning color and grass, all perfectly represent the beauty of "wabi-sabi." Let's enjoy it to the full in this season!